Stanford Medicine Joins COVID-19 Vaccine Trials for Children Under 12
May 11, 2021
From the Stanford University School of Medicine
Stanford Medicine researchers have started enrolling children younger than 12 in clinical trials to evaluate their response to the Pfizer-BioNTech COVID-19 vaccine.
Stanford is serving as a site of the Phase 2-3 trial to determine whether the vaccine produces an immune response and prevents COVID-19 in children 5 through 11 years old. It is also a site of the Phase 1 trial to determine the appropriate dose of the vaccine for children 6 months to 5 years old.
The Phase 1 trial has already begun, and the Phase 2-3 trial is expected to begin mid-May. Both trials now have enough participants.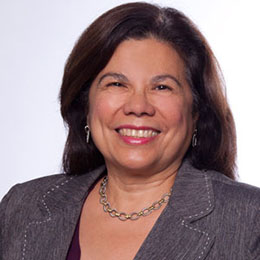 Yvonne Maldonado, MD
The Food and Drug Administration on May 10 authorized use of the vaccine for 12- to 15-year-olds in the United States.
"Children under 18 make up about a quarter of the U.S. population, so if we want to get the virus under control and make sure we have as many people protected by vaccines as possible, we really need to include them," said Yvonne Maldonado, MD, professor of pediatrics and of epidemiology and population health at the Stanford University School of Medicine.
Far fewer children than adults have developed severe respiratory problems from COVID-19, but some children have become seriously ill, and a few hundred in the U.S. have died of the disease, said Maldonado, the Taube Professor in Global Health and Infectious Diseases. She added that long-term implications of contracting the SARS-CoV-2 virus in childhood are unknown. Young people are also vulnerable to a multisystem inflammatory syndrome, which typically occurs a few weeks after viral infection.
Children can spread COVID-19
"Even though the risk in children appears to be lower than in adults, this is still an important, potentially vaccine-preventable illness in kids," Maldonado said. Children can also spread the disease to other people, meaning that vaccinating them is vital both for their own safety and to help bring the pandemic under control.
Pfizer's vaccine is being given to people ages 16 and older nationwide under an emergency use authorization from the FDA. The vaccine uses messenger RNA to deliver molecular instructions that prompt the body to temporarily manufacture proteins matching those on the virus's exterior, allowing the immune system to learn to recognize the pathogen. The vaccine has been found to be more than 90% effective in adults after two doses, and it has a strong safety record.
The Phase 1 trial in young children has begun with 144 participants at four sites across the country; seven are enrolled at Stanford. These children are receiving two injections of the vaccine and will undergo blood draws to check for antibodies to the virus. Once a safe dose of the vaccine has been determined for them, further trials will be conducted to determine its effectiveness.
The Phase 2-3 trial will enroll as many as 200 children ages 5 through 11 at Stanford and a total of 4,600 children at 40 sites nationwide. The study is placebo-controlled, so some participants will be randomly assigned to receive placebo while others will receive the vaccine.
Six months after the shots, participants who received the placebo will have the opportunity to be inoculated with the actual vaccine. The trial will continue for 18 more months, during which both groups will undergo blood draws to track the strength and duration of their immune response and to see if they are infected with COVID-19.
"We are excited to be helping the science landscape move forward," said Jenna Bollyky, MD, clinical assistant professor of pediatrics, who is directing the Stanford study sites for these vaccine trials. "Herd immunity is the goal. To achieve that, it's important to study kids' responses to vaccines."
Media Contact
Erin Digitale
(650) 724-9175
digitale@stanford.edu
About Stanford Medicine
The Stanford University School of Medicine consistently ranks among the nation's top medical schools, integrating research, medical education, patient care and community service. For more news about the school, please visit http://med.stanford.edu/school.html. The medical school is part of Stanford Medicine, which includes Stanford Health Care and Stanford Children's Health. For information about all three, please visit http://med.stanford.edu.